If there was ever a contest for the most popular fighting game of all time, Marvel Vs. Capcom 2 would be the clear cut winner in a lot of fan's eyes. While it wasn't particularly balanced (in fact, I think it's the most poorly balanced fighter of all time), fans ate it up anyway with their devilishly cheap combos of Magneto/Sentinel/Storm/Spiral and Dr. Doom. A lot of those fans were on the show floor these past two days, showing their appreciation for the series.
In the largest MvsCapcom 3 booth at E3, players can compete against their peers for a T-shirt prize if they win five matches in a row. My colleagues ran into one kid who had literally been there all day long, learning the game – make no mistake, there are already dedicated fans out there, so you won't be looking very far for an online match come release time!
I'm not going to make any excuses: I got my ass handed to me completely by someone else playing as Deadpool. In fact, my first mistake when joining the match was not choosing Deadpool, and instead picking Chris Redfield, Dante, and Ryu. In hilarious fashion, in the screenshot above, you can see someone playing as Deadpool in the middle, followed by someone else playing as Deadpool: on the non-pictured left screen, player 1 is also playing as Deadpool.
Supers are done very similarly to Capcom 2, and look just about the same – flashy and over the top. Despite the familiar supers, what I was most surprised about was well Capcom translated Dante into the game. All his signature moves (mostly from Devil May Cry 3) were there, including Stinger, the Trickster Dash, High Time, Two-some Time, and more.
While Ryu felt the exact same as he always has, Chris had a distinctly different moveset, busting out different weapons from Resident Evil 5 all the time – he basically felt like a more unique and fleshed out Jill from Capcom 2.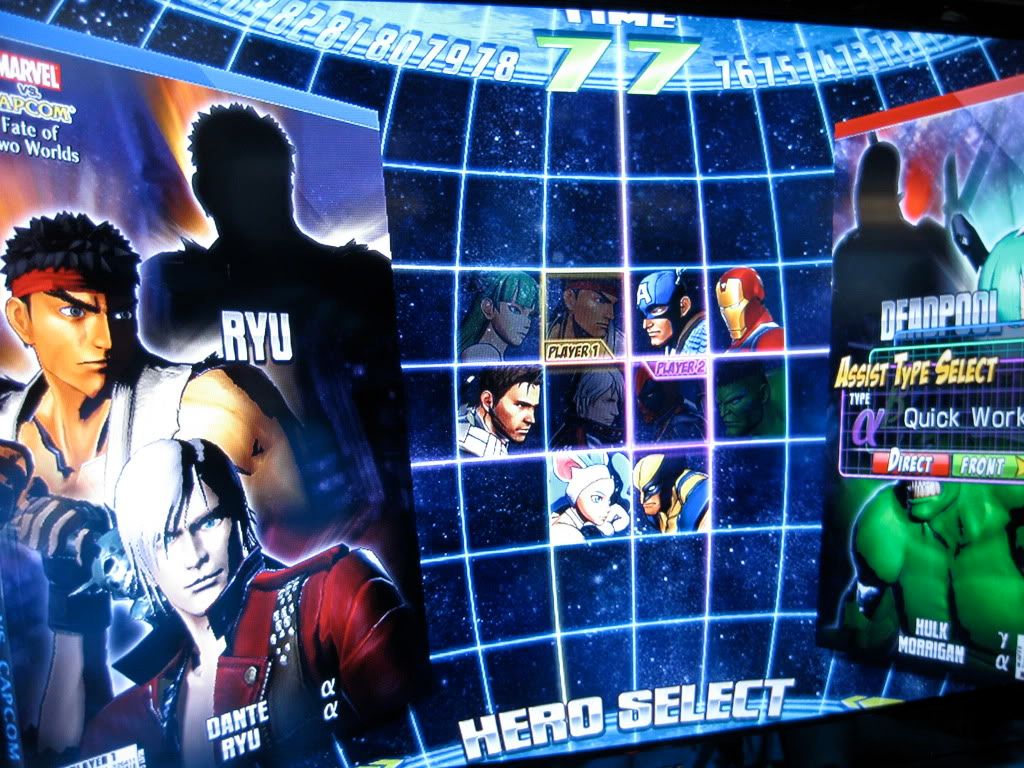 While I wasn't playing as the infamous Deadpool, I did get to witness his amazingly overpowered standard machine pistol shots (which literally sliced through my hadouken – and by sliced through, I mean one of the thirty bullets shot at me within seconds negated my fireball), and amazing air teleport back slice (which felt very Mortal Kombat Scorpion esque).
Combat is still 3 on 3, and still contains the typical tag in/tag out mechanic from 2. Other than some balancing issues I noticed immediately with Deadpool, the game seemed pretty balanced: and it looked beautiful to boot. I'm really digging the new cartoony HD graphical style, especially considering how Capcom re-used old sprites for a ton of Capcom 2 characters (Morrigan, I'm looking at you!).
I played enough to be completely convinced that this is a purchase: even for someone who has been removed from the fighting game scene since Capcom Vs. SNK 2 like mself. In fact, I think it easily has the ability to overtake Super Street Fighter IV.