Portal: Still Alive Review
Valve has managed to release quite a few great games in their lifetime, ranging from Half life back in 1998, to more recent Games like Left4dead. Being one of the few companies that don't crash and burn on big releases, they certainly appear have a good head on their shoulders.
Spoilers are possible. If the game is ruined for you, you have had proper warning.
With that said, I recently picked up Valve's "Orange box", which included Portal. Portal is a different type of Puzzle game which stems off from the Half-Life universe to an extent. The main goal of Portal is a simple one; get from Point A to Point B how ever you can. This can be accomplished by shooting, believe it or not, Portals with your Aperture Science Handheld Portal Device (dubbed "Portal Gun").
The game starts with you waking up in an isolated cell with only a count down timer (currently counting down from one minute) to greet you. Around half way through a recording, you will learn that the voice is GLaDOS, which is an AI that controls the entire facility.  During her talk, GLaDOS seems too lose control and eventually utter, " Stand Back. Portal will Open-".  Now it may just be my point of view, but waking up in an isolated area, with a glitched AI talking to me, instructing me that I'm required to take a series of tests: that's just flat out creepy.
You go through the game completing 19 tests, each with varying difficulty. The earlier tests easily teach you about the general game mechanics. This being the portals, how to use boxes, simple barriers etc. The GLaDos (For simplicity's sake, from henceforth, I'll be referring to her as the "AI") communicates with you through the puzzles giving you slight hints and overall telling you what to do. Even after puzzle 19 it doesn't end, and you go through the heart of the facility, pressing on to who knows where.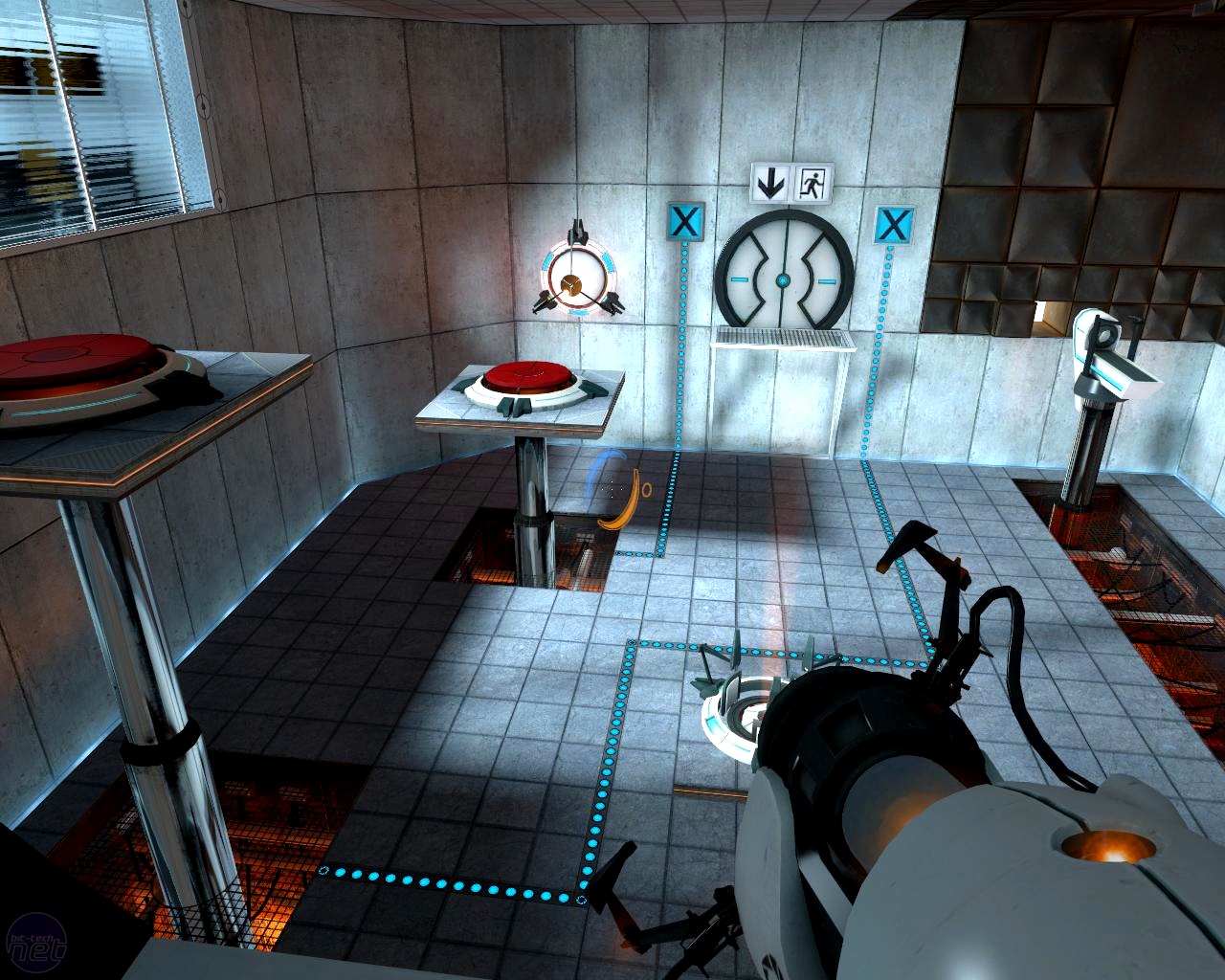 The characters are few and far between, but that's not important. Your character, Chell, doesn't say a word, and she doesn't need to. Who would she be talking too anyway?  The next character, the AI, really sets the mood of the story. The dialogue can be humorous instructions, misleading instructions, an attempt to persuade you into thinking you are safe, or just a lot of random nonsense. Just to get the point across here are some of the, in my opinion, best quotes of the game.
"Momentum, a function of mass and velocity, is conserved between portals. In layman's terms, speedy thing goes in, speedy thing comes out."

"Weeee are pleased that you made it through the final challenge where we pretended we were going to murder you. We are very, very happy for your success. We are throwing a party in honor of your tremendous success. Please place the device on the ground, then lie on your stomach with your arms at your sides. A party associate will arrive shortly to collect you for your party."

"Didn't we have some fun though? Remember when the platform was sliding into the fire pit and I was like, "Goodbye" and you were like "NOOO WAAAY" and I was all like "we pretended we were going to murder you" That was great…"
When you attempt to escape the facility, the AI begins to become more hectic and worried about stopping you. It makes you believe that you are going the wrong way, for example. The AI is quite easily one of the better characters I have seen in any medium. I just wish I could explain exactly what makes her so interesting, but you'll just have to see for yourself.
Another odd "character" is the "companion cube". The companion cube is used to test people whom are isolated for extended periods of time, and asks the question, "will these subjects start having conversations with inanimate objects"? During the puzzle you must carry around the companion cube with you, which is merely a box with a heart in the middle of each side. Throughout the puzzle, the AI tells you that "if the box says anything, do not regard it's advice". Possibly the hardest part of the game is at the end. You are instructed to put the companion cube in an incinerator.  In the short time you have it you grow an attraction to the cube, and it's also obvious you aren't the only one. You'll find graffiti by previous test subjects that declare their love for the cube.
There are also turrets that have child like voices. That added with their remarks when you disable them leads to a feeling of guilt.
The actual game play has one specific goal. Go from Point A to B and repeat until you finish, and then you are rewarded for your efforts with cake. Throughout the game you are continually promised cake for completion of the tests. Of course, you later find that the AI attempts to kill you and you must go through the main facility and find your way out. Your surroundings throughout the game leave an uneasy feeling in your stomach when you notice no one else is around, even in observation rooms. The facility is completely abandoned and it doesn't help when you find graffiti in various hiding places stating things like "The Cake is a Lie", over and over. This shows that there may have been others before you that either took the test or were survivors. When you get into the main facility, you are guided by what looks to be arrows drawn with blood or some other red substance. These markings also include hand prints showing you were to go.
The ending "battle" is as intense as it is hilarious. While the encounter is easy to complete, the AI constantly insults you, with each passing insult getting more immature than the last. The game has a simple finish that leaves a lot of questions unanswered. When the game concludes, you are treated with possibly the greatest ending credits song ever.
Overall the game is fairly short, but you can't blame Valve for that. Puzzle games will always be repetitive no matter how many different ways you layout the map. With the shortened length of Portal, Valve made a perfect length so that you won't be tired of it after a short amount of play. The puzzles are challenging and the story is as creepy as it is hilarious.
Ultimately, I'd buy it if you don't already own the Orange Box. If you only wish to complete the story and find out what all the "the cake is a lie" meme's are about I would try it out first.
Enjoying the game is as easy as eating cake. Too bad you can't have any.
Rating
Category

9.0

Presentation
The game presents you with an amazing environment and even better characters.
How does our scoring system work?

9.5

Gameplay
There isn't much to say about it. It's a different puzzle solving game with easy-to-get-used-to controls.
10.0
Sound
The game has amazing voices and sounds for characters and objects.Lets not forget possible the greatest ending credits song ever.
8.7
Longevity
While the length is lacks compared to other games, Portal provides challenges for you after completing the full game. You can also go back through the game for achievements and just to see if you can find other ways to complete the tests.

9.3

Overall
It's a wonderful game for everyone that enjoys humor, puzzles, or just something different.